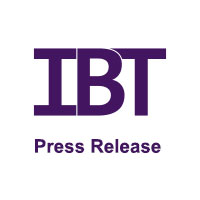 FOR IMMEDIATE RELEASE
Contacts:
Integrated Business Technologies Named to Managed Service Provider 500 List by CRN
Company Recognized for Exemplary Approach to Delivery of Managed IT Services
Broken Arrow, OK, February 24, 2015 – Integrated Business Technologies (IBT), today announced it has earned recognition on The Channel Company's 2015 CRN Managed Service Provider (MSP) 500 list as one of the Pioneer 250. This annual list distinguishes the top technology providers and consultants in North America whose leading approach to managed services enables their customers to improve operational efficiencies, elicit greater value from their IT investments, and successfully leverage technology to achieve greater competitive advantage.
In today's world of outsourced IT, the expertise of MSPs has become increasingly important to organizations. The plethora of choices in terms of consumption and procurement of technology can become overwhelming. To help facilitate companies' selection and adoption of managed services and providers, CRN, the leading media outlet for technology vendors and solution providers who serve end-user customers, has identified the top 500 MSPs.
This year, CRN's industry‐focused directory highlights the Top 500 MSPs in three categories: 100 Hosting Providers who are experienced in providing mainly off-premise, or cloud-based, services; 150 Elite Service Providers who are large data center-focused solution providers with a strong mix of on-premise professional services as well as off-premise services; and 250 Progressive Service Providers who have a business model heavily weighted toward managed services geared toward the small and midsize business market.
IBT partners with many types of businesses in the area, and strives to eliminate IT issues before they cause expensive downtime, so clients can continue to drive their business forward. IBT's dedicated staff loves seeing their clients succeed.
IBT's managed services are based on a fixed monthly rate where customers receive strategic IT support for a fraction of the cost of employing a full-time IT professional. With IBT's flat-rate services, IT support becomes a reliable investment.
"The allure of Everything-as-a-Service to organizations is largely rooted in the appeal of predictable operational expenses, cost-cutting, resource allocation and access to on-demand/pay-as-you-go technology. Therein lies a great need for the expertise of managed service providers," said Robert Faletra, CEO, The Channel Company. "We congratulate the managed service providers who have engineered, or re-engineered, their businesses to deliver the services their customers rely on for future growth and ongoing success."
"We are honored to be recognized by CRN at a national level as one of the MSP Pioneer 250," said Eric Kehmeier, President and co-founder of IBT. "We continually strive to provide our clients with the newest, most efficient technologies available so they can run their businesses successfully.  Our client's success is our success, and as they grow, we grow."
Coverage of the MSP500 will be featured in the February 2015 issue of CRN and online at www.CRN.com,
About IBT
IBT is a complete IT service company assisting small- and medium-sized businesses with their computer networks, backup & disaster recovery, procurement, cloud solutions, and server and desktop support. Since 2007, IBT's goal has been helping businesses get the most out of their technologies. For more information, visit www.IBTsupport.com.
About the Channel Company
The Channel Company, with established brands including CRN, XChange Events, IPED and SharedVue, is the sales channel community's trusted authority for growth and innovation. For more than three decades, we have leveraged our proven and leading-edge platforms to deliver prescriptive sales and marketing solutions for the technology sales channel. The Channel Company provides Communication, Recruitment, Engagement, Enablement, Demand Generation and Intelligence services to drive technology partnerships.  Learn more at www.thechannelcompany.com.
###